August: It's been a strange month. The weather has turned autumnal, with random bursts of mediterranean summer followed by crazy tropical storms, like someone keeps turning the weather dial from 0 to 10 and back again, when it should've just been on 6 all along.
This month I started a new business. I haven't finished closing down the old one yet, but that's getting closer. It's strange to be learning the closing down process for the first time, while simultaneously rediscovering the start up process.
I viewed premises, registered the company, opened a bank account, designed a logo, successfully applied for grant funding, started designing a website, and drafted a suite of policies. We should hear next week whether we've secured the building we want, so we can start getting our project up and running. Our first project will be a food club in Aigburth, to reduce food wastage and to help people reduce their outgoings so their money goes further. I've been volunteering at a food club in Walton and the team there have been giving me lots of advice and support to start one in South Liverpool, alongside support from councillors and residents.
We'll also use our venue, to organise volunteers to help with community initiatives, such as litter picking, and hosting community consultations, to encourage local residents, workers and visitors to have their say on how to improve the neighbourhood.
That's the plan anyway.
So I got to visit Coopers twice. I fulfilled my goal of ordering something other than scones… Then I ordered scones to go!
And I've continued writing. I started writing my second novel. Well, third novel, I guess, but second novel of the lockdown period. I sent out my manuscript to 5 agents. I got an immediate rejection, but it was a nice rejection: described my writing as having a jaunty and attractive tone. So I wasn't too devastated.
I got the chance to read a proof copy of a wonderful book called The unwrapping of Theodora Quirke by local author, Caroline Smailes. It's a Christmas story, focusing on St Nicholas. Having worked alongside someone of Dutch & Belgium origin for a few years, I was familiar with Sinterklaas but didn't know much about the festival. The story brought St Nick to life and plopped him squarely on Merseyside, with an unlikely sidekick in the form a young, working class woman, Theodora Quirke. It has time-travel, love and loss, and of course, miracles. It had me laughing out loud one minute and crying buckets the next as it holds up a mirror to the selfish greed of our society while reminding us that there are wonderful people in the world who continue to invisibly fight for a better world. It's excellent. Half way through I felt like the novel had been written specifically for me. And by the end, I decided to hang up my pen, declaring: I'm never going to write anything half as good, so what's the point? (Though I have since realised that there's room for all kinds of stories and no two readers are the same, so I did pick up my pen again, metaphorically speaking).
Skip back a couple of years: I wandered into the library one Friday afternoon, looking for a book to read over the weekend. One of the librarians asked what I was looking for: I never know the answer to this question – and I usually like to be left alone to browse things because I imagine librarians as the most ardent readers and fear them judging my reading choices – however, I'd been talking about the Helen Forrester biographies around that time and fancied re-reading them, but as fate would have it, they were all, mysteriously missing from the library system. The librarian wandered off around the library and came back with a handful of books that he thought I might like. I felt compelled to choose one of them, as he'd gone to the trouble of finding them, but the first two sounded terribly depressing. So I plumped for the third option, which was set in Lime Street Station, called The Finding of Martha Lost by Caroline Wallace. I also grabbed a light hearted romance novel, that I'd picked while he wasn't looking, just in case.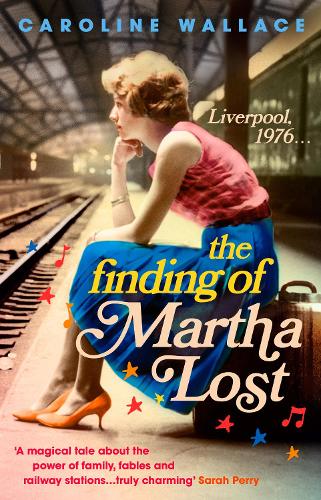 Oh goodness me. The Finding of Martha Lost was delightful. I couldn't put it down. It was like nothing I'd ever read before. I couldn't put my finger on a genre for it or liken it to anything else I'd read before. Every time I came to the end of a reading sessions, I'd just grin happily. And more often than not, pick it up again and just read the next bit. Martha is a charmingly naive, young woman who has been raised by a not-so-charming woman who lives above, and runs the left luggage kiosk. Martha knows nothing of life beyond the walls of Lime Street Station. It was just different and utterly wonderful. It changed the way I looked at Lime Street Station too, turning it into a visitor attraction, in the same way I view movie locations. Whenever I pass through the station, I nod my head knowingly at the left luggage kiosk, because I know what's really happening behind those shutters.
Normally, as discussed in my previous post, I would seek out every book by the same author, but on this occasion, I couldn't find any. But I was so taken with the novel I made my other half buy it for his mum for Christmas.
A few months later, the Liverpool Echo ran a headline: Secret of Lime Street Station Feature Hidden Beneath Our Feet Uncovered by Builders. And I retweeted it with a reference to Martha Lost. Realising no one I knew would get the reference, I searched for the author and tagged her. Not something I ever do, by the way, but for some reason I felt compelled to do it.
And she replied. Which I didn't expect.
And she's Caroline Smailes.
Having spent more time on Twitter recently, I've been following Caroline preparing for the release of her Christmas novel and chatting to her a bit about writing – she made me get on with sending out my manuscript to agents and gave me a whole load of advice. And then she let me read her soon-to-be-released novel and, being as blown away by it as I was by The Finding of Martha Lost, I've ordered everything else she's written, that I could find on Amazon (except 99 Reasons Why, priced at £147 – which probably means it must be especially good – so might have to check the library for that one). And I'm demonstrably NOT writing my second (third) novel, because what's the point?*
I have been writing though, mainly bid writing, which requires a different mind set and once I was in that zone, it made sense to stay there for a bit. I've written 2 grant applications for a CIC based in Sefton, given feedback on another application and assessed several applications for a grant funder. But next week is a new month and I hope it'll see me back on the novel writing track.
Things have changed so much since lockdown. I still feel the new path I'm on is a sunnier one. But on the 26th of August it was 10 years since I incorporated my business. I was in the office that week, shredding the first 3 years worth of accounts along with registration forms and 10 years worth of paperwork. It was strangely cathartic, but a little emotional too. End of an era.
But before I say farewell to my favourite gadget: the laser cutter, I made some plaques for the River Oaks Charity in Aigburth, which I'm looking forward to handing over in a suitably, socially-distanced manner soon. I popped over to see their wildflower meadow, earlier this month and it's really lovely; I burned off the scone calories with a nice walk around the pond, across the meadow and through the woods before catching the train home.
And here we are welcoming September already. It still feels like 2020 hasn't really started. Unofficially, September means the start of the Christmas season, although I've already brought my Christmas socks back into circulation. This year though, I might focus on December 6th instead. #IBelieveInStNick**
*Although I've procrastinated a lot this week on my novel, I'll get back to it. At 30,000 words in, I'm more than committed!
**The Unwrapping of Theodora Quirke is available for preorder and in case my enthusing hasn't already sold it to you, £1 from every sale is going to Radio City's Cash for Kids. What are you waiting for?